Allpa: Qualität, die von Herzen kommt
1986 schloss sich in Peru eine Gruppe junger Berufsleute zusammen, die alle den Wunsch hatten, peruanische Handwerksprodukte besser bekannt und einem internationalen Markt zugänglich zu machen. Aus dieser Vision entstand das Unternehmen Allpa, dass auf den Vertrieb von Dekorationsartikel wie Keramik und Spiegel aus Chulucanas, Kleidung aus Baumwolle, Wolle und Alpaka sowie Schmuck aus Gold, Silber und Bronze spezialisiert ist.
Allpa hat sich ganz der Nachhaltigkeit verschrieben und achtet darauf, dass die handwerklichen Erzeugnisse unter fairen Lohnbedingungen und angemessenen Arbeitsbedingungen hergestellt werden und dass sie hohen Qualitäts- und Funktionsstandards entsprechen. Der hohe Qualitätsanspruch kommt nicht nur den Kunden zugute, sondern auch den Herstellern. Viele von ihnen haben in kleinen Werkstätten angefangen und konnten im Laufe der Zeit aus dem Familienbetrieb ein echtes Unternehmen erschaffen, weil sich ihre erstklassige qualitative Arbeit gut verkauft. Mit diesem sozialen Ansatz unterstützt Allpa das Wachstum der Produzenten langfristig, trägt zur Entwicklung neuer Produkte bei und hilft, neue Arbeitsplätze zu schaffen.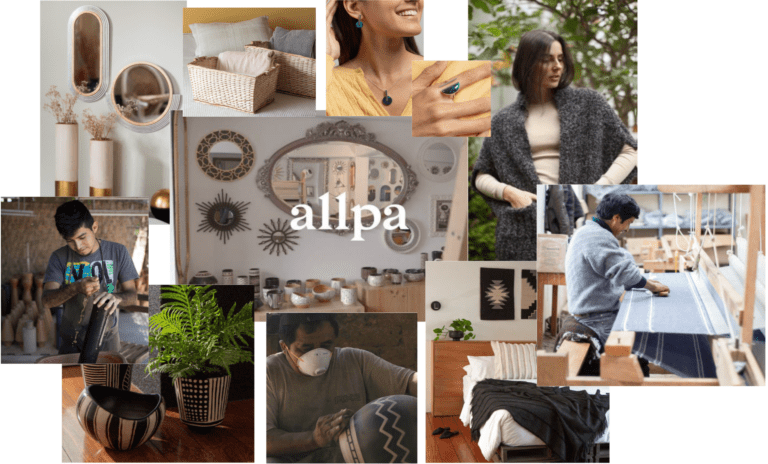 Allpa arbeitet jedoch nicht nur mit externen Herstellern zusammen, sondern verfügt auch über eigene Produktionsstätten, die gleich zwei Ziele erfüllen: Einerseits stellen Handwerker exklusive Produkte her und andererseits werden Handwerker ausgebildet und später eingestellt, um so den Fortschritt peruanischer Familien zu fördern.
Allpa will sich vermehrt auf den Export seiner Kunsthandwerkprodukte fokussieren, wobei Europa und insbesondere Deutschland die wichtigsten Zielmärkte sind. Aus diesem Grund kam es zur Zusammenarbeit zwischen dem peruanischen Unternehmen und Ehrsam Peru-Consult, und wir freuen uns sehr, Allpa zu unseren Kunden zählen zu dürfen. Damit Allpa ihren angestrebten Export nach Deutschland erfolgreich umsetzen konnte, hat das Unternehmen unser Programm "How to enter the German market" absolviert. Und nach 12 Monaten intensiver Arbeit hat Allpa ihr Ziel erreicht. Besuche die Website von Allpa und überzeuge dich von den außergewöhnlichen Produkten und den inspirierenden Geschichten der verschiedenen peruanischen Kunsthandwerker.
Geschrieben von Mónica Valcárcel
Mehr lesen